Another pole for GT3 and GTC championship leaders Xu Jia and CJ Huang, while in GT4 Thomas Ashton and Lo Sze Ho put their #86 KTM in front for the third time this season.

GT3 Class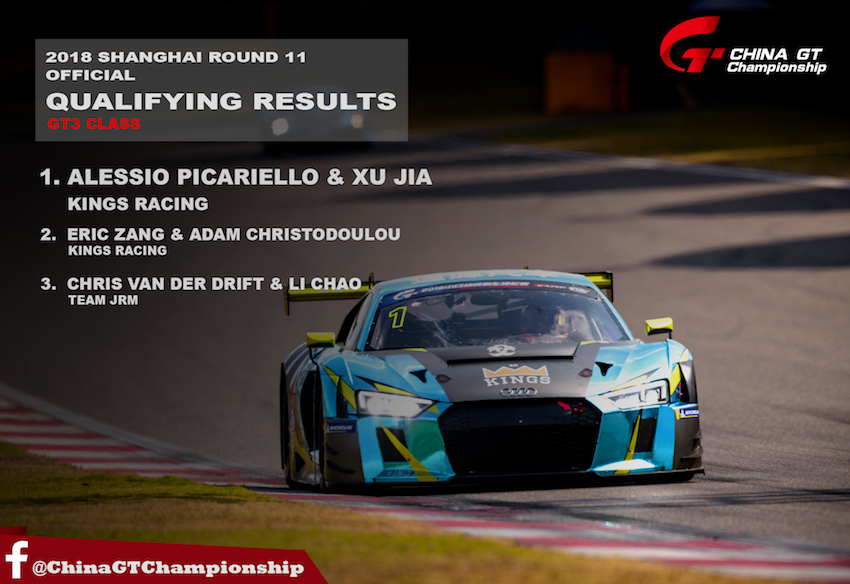 Xu Jia headed into the weekend with a 33 point lead in the standings, and gave his title bid a boost by putting the #1 KINGS Audi on pole along with Alessio Picariello, both of whom set the fastest time for their respective sessions. Their combined time was 2:03.700, with Picariello quickest in sector 3.

It's a KINGS front row lockout, as Eric Zang and AMG works driver Adam Christodoulou qualified second in the Mercedes-AMG, bouncing back from an early scare during morning practice which saw the #63 car in the barriers.

Li Chao and Chris van der Drift were both at one point quickest in their respective sessions but both had their lap times cancelled for exceeding track limits. They will start third, just 0.03s behind the #63.

In fourth and fifth places respectively will be the remaining Porsche 911 GT3Rs of R+ Racing's Zhang Dasheng and Pan Chao and the special "Pink Pig" liveried Team JRM of Lin Nan and Min Heng.

Unfortunately for Kuo Kuo Hsin, his #2 car made contact with the barriers early in the session and he had to retire from qualifying, meaning he will start at the back for Saturday's race.


GTC Class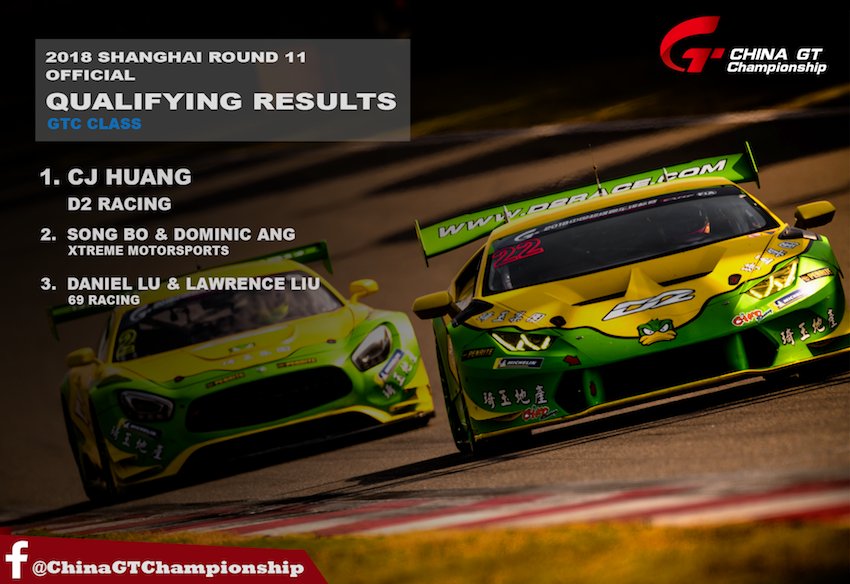 CJ Huang already wrapped up his second GTC title last time out in Wuhan with back-to-back victories, and he stormed to another pole with a time of 2:08.119.

Dominic Ang set the pace for GTC on his second flying lap in 2:06.206, and helped haul the #25 Radical into second in class after his lap time was averaged with that of teammate Song Bo.

69 Racing's Daniel Lu and Lawrence Liu were the first of the three Porsche Cup cars on the grid today, with R+ Racing's #307 Wang Tao and #82 Shang Lei/Zheng Hui being split by the 69 Racing Audi R8 of Jacky Wu and Jeffrey Zee.

Thomas Ashton and Liu Kai's #68 made it out in Q1 but a mechanical problem consigned it to the pits for Q2. Steve Yin in the #10 Eagleeyed Racing entry also failed to enter qualifying due to a logistics problem.



GT4 Class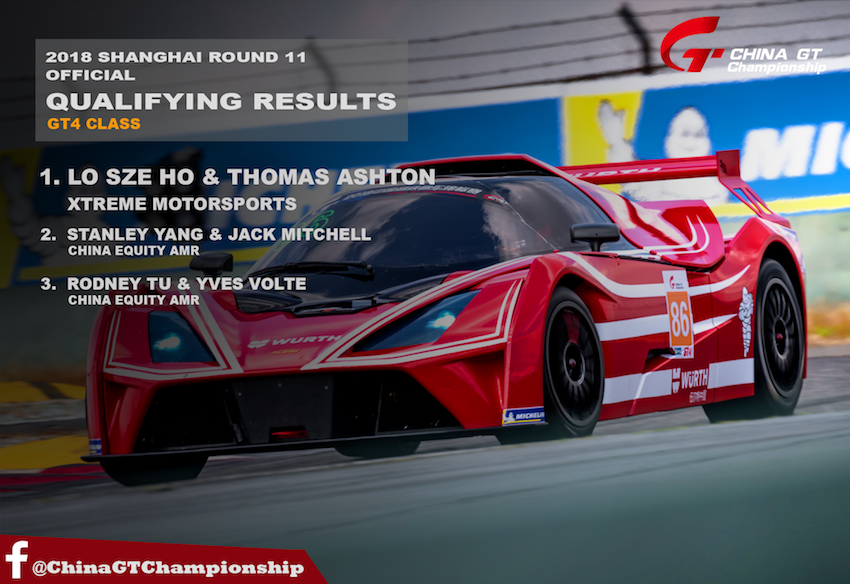 Jack Mitchell set the fastest lap of the class but it was Xteme Motorsports' Tom Ashton and Lo Sze Ho who took pole in today's session.

The #86 KTM pair benefited from a strong showing by gentleman driver Lo Sze Ho, who set the fastest lap on his final run after his previous quickest record was deleted for exceeding track limits. His time of 2:16.644 was just 0.24s off his teammate and FIA silver-rated driver Thomas Ashton.

British GT4 champion Mitchell was quickest in sectors 1 and 3, and he and co-driver Stanley Yang put the championship contending Aston Martin on the front row with a combined time of 02:17.046.

Taiwanese rally legend Rodney Tu and Yves Volte will start from the second row, with the German teenager setting the session's second fastest time after Mitchell. The pair will start alongside new entry Laura Kraihamer and Bo Lemastus in the #87 KTM X-Bow.

GT4 AM/AM leader Dong Liang qualified well in both sessions. His average time of 02:18.164 was enough to put him fifth, ahead of Fist AAI's Kevin Chen and Ivan Lee.

Championship leader David McIntyre will start only seventh, putting him on the back foot against title rival Mitchell who starts from the front row. McIntyre shares the wheel with McLaren works driver Charlie Fagg again this weekend.

New entry Shang Zhongyi and David Pun in the FEA Racing-liveried Aston Martin will start in eighth position ahead of the K2C Motorsports Ginetta shared by Sennan Fielding and Kenny Chung.

The two Lotuses of Clement Li and Clerebold Chan in the #98, and Dominic Ang and Anthony Chan in the #28 will start from the fifth row, ahead of the final Aston Martin of Yu Zhao and Yang Zhiyi.